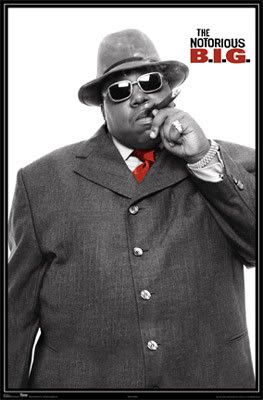 ORIGINALLY POSTED ON THE
LIBERATOR MAGAZINE WEBSITE
http://weblog.liberatormagazine.com/2009/01/celebrating-life-after-death.html
For the past few days I have seen a lot of negativity about
Notorious
, the new movie about the life of rapper Notorious B.I.G. Most of the criticism seems to stem from anger over the film's "glorification" of the street hustler ambition Biggie personifies. Others complain that the film fails to deliver the
gravitas
of Wallace's life; instead of a complicated, probing, thorough compilation, we get a glossy, "made-for-industry" story which archetypes the stereotypical "Black male" narrative.
You know like "Kick a few bars, so I can buy a few cars"
Or "I stay Coogi down to the socks/rings and watch filled with rocks."
I know ugly hurts the eyes, and ignorance hurts the soul. And without question, Hip-Hop can occasionally hurt us in excruciating ways.
But maybe, it is time we remember that life is
"Joy and Pain."
And sometimes, it doesn't hurt to embrace the joy...


A classic episode of the 1970's Black sitcom "Good Times" gives us an important lesson in Joy and Pain.

When James Evans (actor James Amos' role as patriarch of a poor Black Chicago family) dies, Michael, J.J. and Thelma wonder why their mother Florida (played by the venerable Esther Rolle) is not "grieving" over their father's death. In a brilliantly resonating, exceptionally poignant moment (the type of moment all to sorely missing from the series' latter days,) Rolle explains how we shouldn't think of death strictly as grim, devastating, and sad. Rather, Florida explains to her children that death can be seen as a time not to lament or bemoan...but as a time to celebrate--to celebrate one's life and to cherish what a person gave us. We give praise to life by remembering it. Death is the fulfillment of our journey. And we should celebrate it.

The greatness of the Evans family's TV moment is that Florida tells us that this is a tradition of the African culture. Celebrating death as the fulfillment of life is an African Diasporic tradition.

I think we need to recapture that sentiment, and remember it as we reflect on Biggie's life and watch his new movie.

All too often our community fails to maintain the fine balance that is critique and analysis; positive and negative; rhyme and reason. Either we find ourselves in uncritical, fallacious bliss; blind, unconditional denial; dogged, burdening negativity; or apathetic, resolved resign. Emotions are certainly a juggling act, and not a easy feat by no means. But we should always remind ourselves of time and place.

Undoubtedly, the life of the Notorious B.I.G. is troubled. His womanizing actions; his illegal activities; his role in capitalism's hi-jacking of Hip-Hop culture; his indulgent expressions of violence and vulgarity; this is no question disturbing and problematic. We need to look at these problems closely to grow and improve; and to gain a fuller understanding of how these issues come about, and what to do about their presence. Yes, looking at Biggie's life gives us a opportunity for all of this.

But it also gives us the opportunity to...celebrate.

Christopher Wallace was one of the most talented musicians of the 20th century. His extraordinary verbal fluidity, his lyrical prowess in rhyme, and his remarkable ability to convey imagery, metaphor, imagination, and experience into narrative form--these skills make him not only one of America's greatest story-tellers, but one of the African Diasporic communities most gifted individuals.



And there is nothing wrong with accepting that.



"Hypnotize," "Mo Money, Mo Problems," and "One More Chance," is music that can make you dance. Songs like "Juicy," or "Missing U," can make you introspective. And joints like "Kick in the Door," or "Get Money" can get you hyped.

Is there anything wrong with that?

The burden of being politically orientated, progressively leaning, and socially conscious can be exhaustive. It can definitely keep you working all day, and up all night (or more likely, working day and night). But sometimes we need to be reminded that life is more than that. Joy exists in struggle. Birth is precious; victory can be attained; happiness has a place...if we make room for it.

For a moment, for a time, we should allow ourselves to

feel good

.

Beyond Biggie though, we need to embrace the moments of joy we capture in this world. Hip-Hop may have many problems, but if it teaches us one thing...it is to celebrate.

As we embark on a several day journey where we will honor Dr. King, remember Biggie, and inaugurate the first Black president, let us seize the moment. We can worry about what is lacking, or what can go wrong, or what is already a problem,

afterwards

.

For a moment, let us not be afraid to... be happy.

We need to create spaces where we can reflect on our short-comings and problems. We need time to critique ourselves and each others in an attempt to be better.

But let us never forget to celebrate life... even after death.

P.S. We'll Always Love Big Poppa....
Michael Partis
michaelpartis@gmail.com
www.michaelpartis.blogspot.com
www.myspace.com/hiphopthought