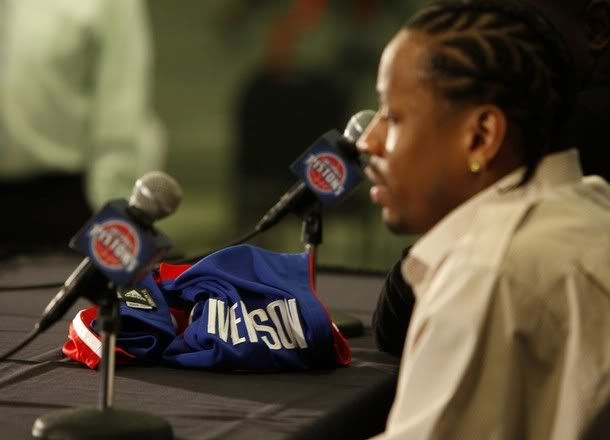 Originally Posted at
The TSA Report.com
http://www.tsareport.com/#3
Allen Iverson is a generational icon. Iverson embodies the Black athlete who was birthed from the Hip-Hop culture. He personifies the Hip-Hop aesthetic: brash, relentless, and fearless. His free-wheeling, improvisational, lightening-fast game introduced the next phase of basketball - a phase that actualized a playground sensibility, and embraced the oppositional, self-defining world-view of the new athlete. The cornrows, the cross-over dribbles, the multiple tattoos, taking on Michael Jordan at the top of the key; these were the features and qualities that endeared Iverson to basketball fans throughout America's urban landscape, and made him intriguing to the post Bird-Magic-Jordan NBA community. Iverson was NBA basketball…the remix.
But that was the 90's.
As we close the first decade of the 21st century, Allen Iverson's thirteen year NBA career and cultural status stand at a crossroads. No longer is A.I. the youthful "rebel without a cause" adored by all. In many ways his cultural resonance has been surpassed by the Lebrons, Carmelos, and Dwyanes of the perpetual "next generation." The "ghetto fabulous" appearance and "take-no-prisoners" disposition that defined a cohort of players like Chris Webber, Latrell Sprewell, and Iverson, has given way to an economically driven sense of market-awareness and commercial appeal evident by the league's new superstars. Symbolically, Chris Weber's "Fab Five" has become D-Wade's "Fave 5." A.I.'s Reebok has become Lebron's Nike.
The story that remains though is Iverson's career on the court. Statistics certify his status as one of the greatest scorers in NBA history. The memories of fans and the highlight reels will certainly affirm him as pound-for-pound one of toughest players ever to step on the hardwood. But his one-man show in Philadelphia, and two-star attraction in Denver, did not achieve the accomplishment that distinguishes an NBA career: a championship ring. In fact, they barely produced playoff victories - note Denver's 1-8 playoff record during the Iverson years.
And so, the legacy of Allen Iverson rests not on his cultural relevance, but on his basketball career. As he now stands in Detroit, he has become part of a Pistons group also trying to define itself in basketball history. Their one NBA championship is blemished with six consecutive trips to the Eastern Conference Finals without advancing to the NBA Finals. As this Pistons team searches to solidify their place among the greatest, so does Iverson. Can A.I. transcend them, and his career, to all-time stature?
"The Answer" remains to be seen.